Yep, that's right, you can win a copy of Gavin's latest DVD 15 Minute Photo Challenges- Best of Vol.1.
What you have to do
Gavin's video is all about finding a great photo wherever he is, so that's your challenge here. We're not looking for the glamorous or exotic but a great photo of an everyday object. Of course it wouldn't hurt your chances if you added a little Photoshop flair to it, even better if you use a Gavin Hoey technique.
Where You Can Find Gavin Hoey Tutorials
On TipSquirrel.com
In Digital Photo magazine
On YouTube
On Gavin's blog
Some rules;
Entries should be posted to the Flickr Gavin Hoey DVD Competition group
Sorry, if you're a Nut, or related to one, you're out.
Wherever you live, that's ok, so long as we can post the prize to you.
Got more than one idea? That's ok, keep 'em coming.
All the photos have to be your own work.
Be quick, we're not hanging around, the closing date is Friday 26th November 2010
What You Can Win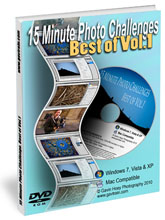 15 Minute Photo Challenges
– Best of Vol.1
The idea is simple. Take one camera to one location and spend no more then 15 minutes taking photos. The results can be unusual and surprising images.
Of course the photography is only half the story as Photoshop also plays its part in the process. So for the first time ever Gavin Hoey (professional photographer and winner of the Adobe Photoshop Evangelist 2010) reveals some of the Photoshop tricks and techniques used to make the final images.
Software used in videos: Photoshop CS4 (Compatable with CS3, CS4, CS5)
Number of videos:22
Approximate run time: 122 minutes